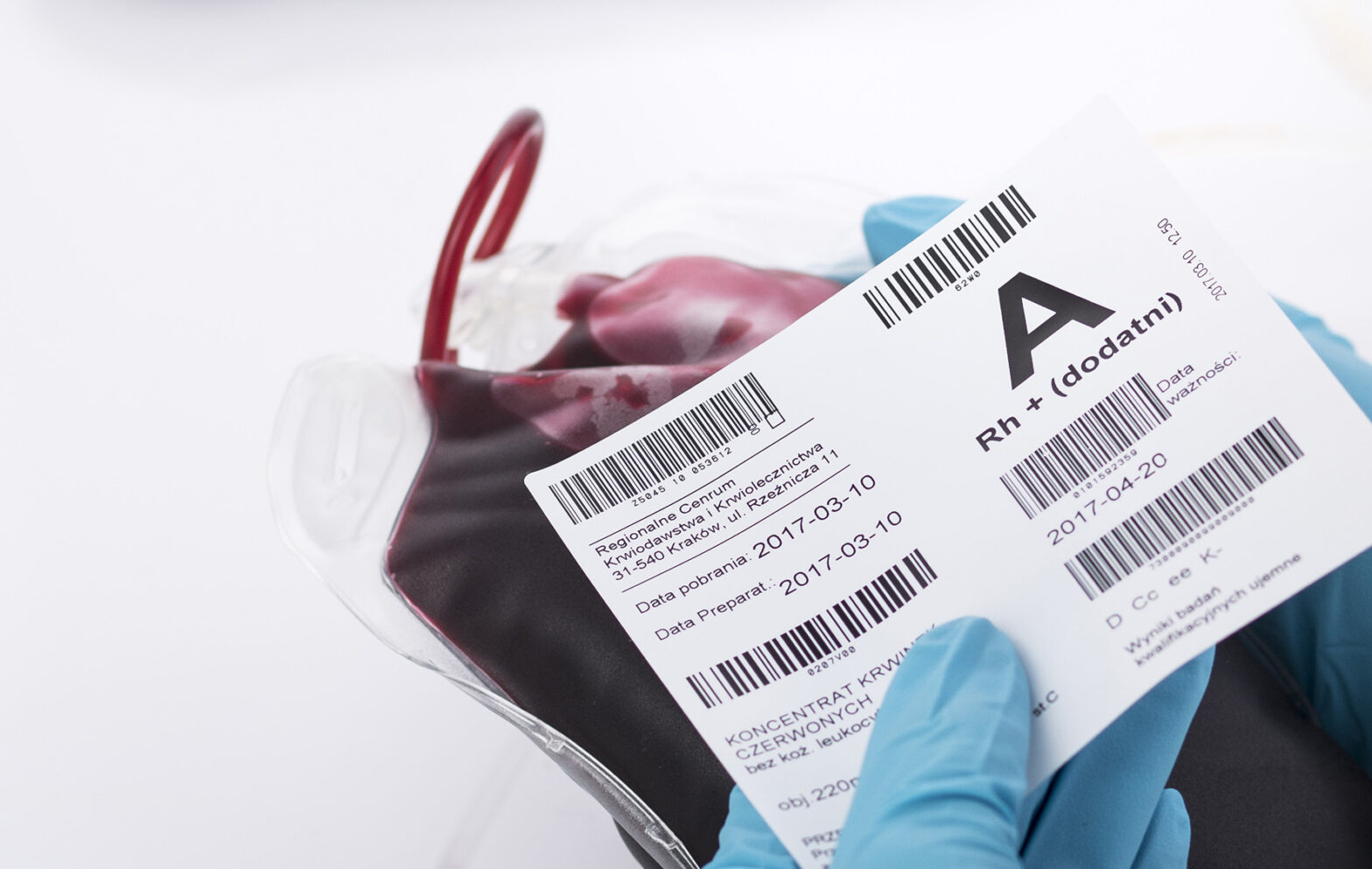 Labels and markings for blood donation centres
17 sep 2021
How to effectively and permanently label bags with blood, plasma and bone marrow?
Readd about non-migration adhesive labels: for blood donation centres and laboratories
etiCALLS is a proprietary system providing laboratories with comprehensive support in sample identification and process monitoring. One of the solutions included in the system contains labels with non-migrating adhesive. It is worth noting that they can be safely printed with data and barcodes.
MIGRATION SAFE labels have been developed primarily for demanding blood donation and haemotherapy centres and hospitals that can use them when applying to blood, plasma and bone marrow bags. It is certainly worth mentioning that Etisoft is one of the few manufacturers to offer labels that work well on frozen plasma bags.
What are the characteristics of non-migrating glue labels?
Laborers appreciate them for:
easy adaptation to the shape of a blood or plasma bag, whether stored at room temperature or frozen
high adhesion of the label to the substrate even at very low temperatures, also to frozen surfaces, resistance to water environment, whirling and temperature from -50°C to +80°C
non-migrating glue that does not penetrate the surface of the bag (ISEGA and FDA certified)
resistance to atmospheric factors
the possibility of storing samples on a number of years' basis
easy scanning of information from the label, even when stored at low temperatures
durability and legibility of the print.

From tagging blood bags to monitoring samples in laboratories
Why are we talking about the complexity of the etiCALLS solution?
This is because, apart from specialist labels, the etiCALLS system also includes the following components:
appropriately selected thermal transfer ribbon
printer
proprietary software for easy and independent label design with the use of barcode or printed with data.
It is worth noting that the solution with non-migrating adhesive is compliant with the ISBT standard according to Regulation 2002/98/EC. It meets the requirements of the Food and Drug Administration (FDA) and the ISEGA certificate. The labeling process itself includes marking, support in identification and monitoring of samples.
We offer non-migrating adhesive labels in three standard sizes.
Another advantage of the system is the ability to print the required quantities of labels in accordance with the current needs of the user.
Solutions with non-migrating adhesive are used in:
blood donation centres
medical laboratories
food laboratories.
Wristbands to identify donors are also used at blood donation centres (but not exclusively). The standard band for donors contains the donation (a unique number worldwide), name and surname, and sometimes PESEL number.
The bands are used to identify the donor at each stage he goes through, i.e., sample collection, doctor, blood taking. They make it possible to easily identify the donor and eliminate mistakes. They are also responsible for starting the blood collection mixer, that is the blood collection itself.
Etisoft cooperates in the selection of etiCALLS solutions with blood donation centres in Poland and abroad.
Below you will see how labels with non-migrating glue work during application on blood bags.
We also encourage you to acquaint yourself with other solutions of the etiCALLS system.