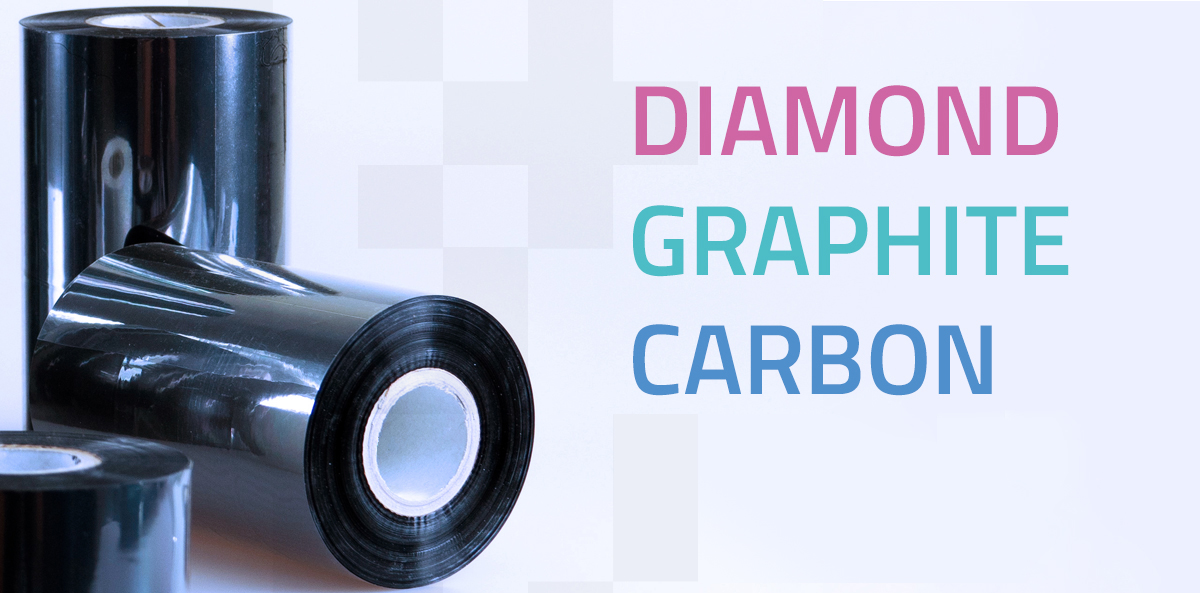 Thermal transfer ribbons – new names, the same quality
20 maj 2021
Rebranding of the Etisoft brand also means transformation of the offered products. Thus, thermal transfer ribbons with the new Etisoft logo have gained a new, clearer division. We have also extended their offer. We have made sure that they stand out on the market by designing for them a wrap with legible information about the type of the product.
Thermal transfer ribbon – new division
It has been introduced to systematize both nomenclature and the suggested application of a given ribbon. All the black thermal transfer ribbons in our offer have been divided into three basic groups:
There are carbon papers with three types of ink (wax, wax-resin, and resin) in each of them. The names of these groups are characterized by one denominator, that is carbon. Each variety of carbon means different quality and durability. The same principle refers also to thermal transfer ribbons offered by Etisoft.
CARBON group ribbons are the first choice for customers interested in economic solutions. The ribbons will prove useful in less demanding applications or in case of short-term markings. The group also includes ribbons used in the process of marking with the aid of hot stamping. ETISOFT CARBON RIBBONS find their application mainly in the logistics industry and trade.
GRAPHITE group ribbons offer the best value for money. In this group you can find high quality thermal transfer ribbons for a wide range of applications, from logistic labels to industrial markings and ribbons for direct in-line printing. ETISOFT GRAPHITE RIBBONS are intended for printing markings in industry, transport, and logistics.
DIAMOND is a group of ribbons which provides the highest quality of print and it is intended for very demanding applications. The ribbons from this group hold numerous certificates, including the UL certificate. They are recommended for customers for whom quality is paramount. ETISOFT DIAMOND RIBBONS are the best choice for the automotive industry, household appliances, electronics, chemical and laboratory industries.
*UL – concerns resin ribbons from this group in combination with recommended label materials.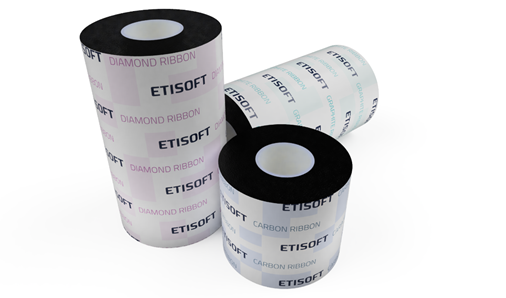 Thermal transfer printing – an offer for a wide range of recipients
In view of the changing market, and thus changing customer needs, we have decided to extend our offer of thermal transfer ribbons. The new offer is a response to these changes. A wide range of brand-new ribbons which have been introduced into the offer will meet the needs of each customer, both a small company and a large corporation. Depending on the use, a wide range of ribbons with each type of ink makes it possible to match the right solution.
You will recognize them by their wrap
If you want to build a strong brand on the market, it must be recognizable and characterized by something. A characteristic point of our ribbons will be the new leader, the so-called "wrap." We have developed a new graphic design which will feature the new ETISOFT logotype together with the marketing name of the thermal transfer ribbon group which it belongs to. Associating a product with the brand builds greater customer awareness, and makes the customer not only see the product, but also begin to associate it with benefits.
Interested? Contact us!