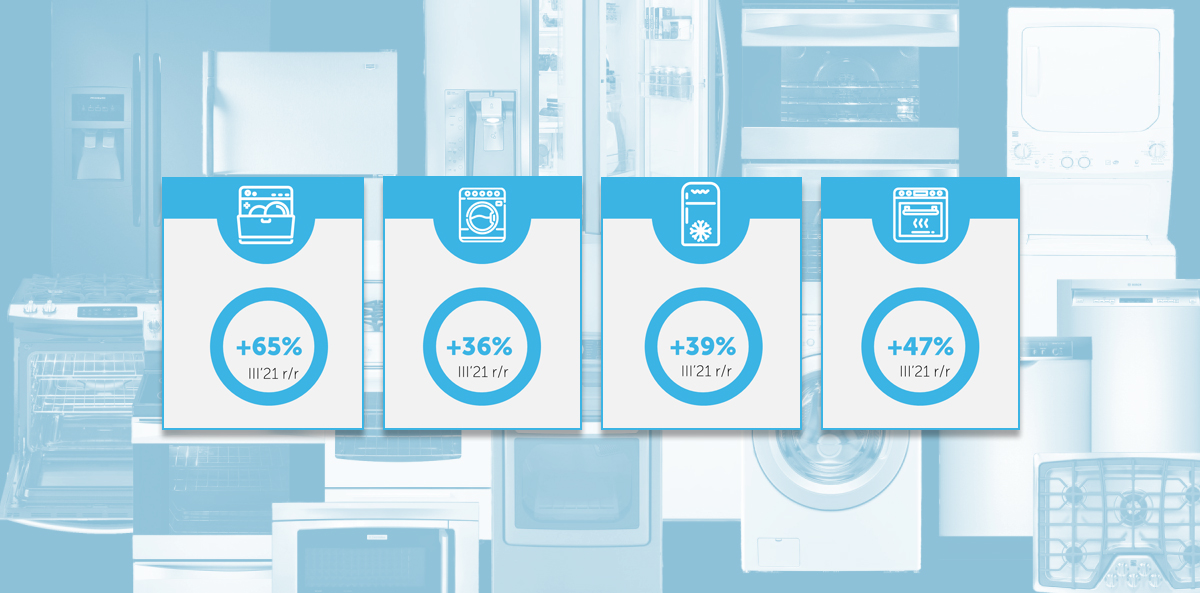 Household appliance industry is gaining steam – household appliance manufacturing results are an opportunity for Etisoft
19 jul 2021
The household appliance industry is an enormous market which almost never reaches a plateau. New technologies are created at a breakneck speed, and these ones we are familiar with are being continuously improved. In this way, more and more new household appliances are created which facilitate the lives of their users in numerous ways. An analysis of the production data clearly indicates that the household appliance industry in Poland, although it slowed down for a moment during the COVID-19 pandemic, is already back at the top speed and breaking new records. Let's take a closer look at the report results and check how this situation may influence Etisoft operating in the sister industry.
Promising figures
According to the data collected in the APPLiA Polska report, the first months of 2021 already (picture below) make it clear that another year of growth in the production of large household appliances lies ahead. On average, there has been a 30% year-to-year increase throughout the first quarter of this year, whereas in March alone a 50% increase could be observed.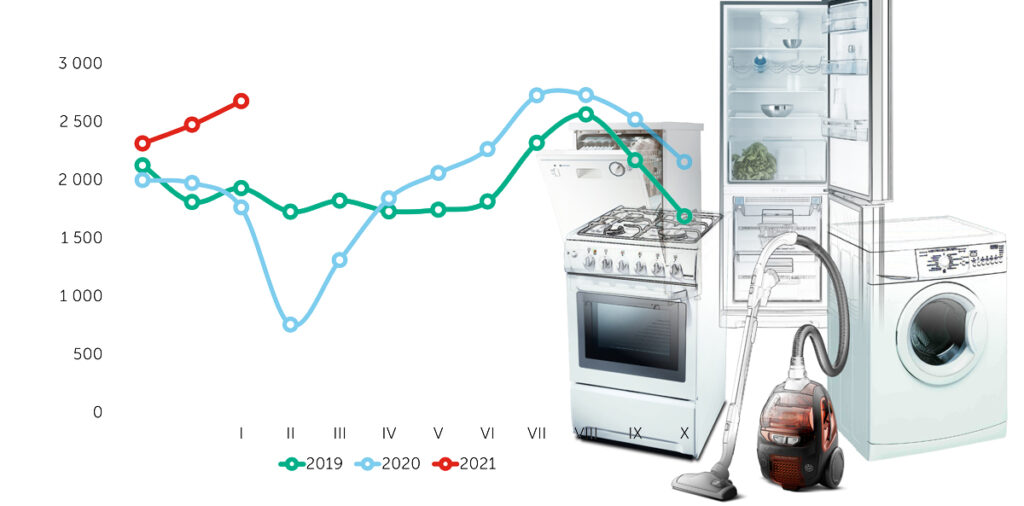 It is worth mentioning that the growth can be observed in the production of every type of large household appliances: on average, 21% more washing machines are produced year on year, production of dishwashers increases by 36%, clothes dryers by 73% (this is the highest recorded increase, in March alone by 147%!), and refrigerators and freezers by 24%. This shows the increasing consumer needs, and the boom in clothes dryers indicates that this technology is increasingly trusted by customers and will likely become a permanent part of the canon of basic household appliances, like the dishwasher once did.
How is the growth in the household appliance industry related to Etisoft?
Etisoft is a leading producer of information and marketing labels for household appliances. The currently observed growth and the forecast of further increasing demand for high-class household appliances allow the brand to look to the future with confidence.
First way: manufacture of labels and functional elements for household appliances
We manufacture obligatory energy labels which inform customers about energy class of a device, energy consumption, water use and other features of the equipment the purchase of which they are considering. Rating plates and information labels containing a range of data on household appliances, which are helpful in connecting the device to water supply or power supply in a correct way, also perform informative function. Another type of labels manufactured by Etisoft are marketing labels which provide customers of electrical stores with information about special functions the available models of dishwashers or refrigerators are equipped with.
However, labels are not everything. Etisoft also manufactures mounting die-cuts, insulators and self-adhesive tapes which protect components and accessories during transport. Thanks to them the transport of fridges, ovens and other household appliances is safe, and the consumer can be certain that the product will be delivered intact.
The range of accessories produced by our company is supplemented by instructions for use and guarantee certificates printed by us.
Second way: manufacture of components and sub-assemblies for household appliances
The components manufactured on Etisoft's production lines include control panels and front panels used in all types of household appliances. Control panels are responsible for legible presentation of information about the status of the device or parameters of the selected programme. Faceplates, in turn, perform mainly informative function. These are the elements located on the front wall of a washing machine or a dishwasher, marked with explanatory captions.
Third way: solutions for the household appliances industry
Etisoft does not only deal with the production of labels, die-cuts, or control panels. Our offer also includes the solutions designed for the optimisation of work in production and logistics areas as well as in warehouses.
An opportunity for Etisoft
The development of the household appliance industry does not want to slow down. The demand for new technologies, and therefore also for new components, markings, and software, is continually growing, which lets us look to the future of the industry and the future of Etisoft with optimism. The production itself, however, is not sufficient, that is why we have formulated the vision of our company's development which we have called "From labels to Industry 4.0." Within its framework, we offer not only labels manufactured in-house, but also products and systems which allow us and our partners to reach the level of an Industry 4.0 company.