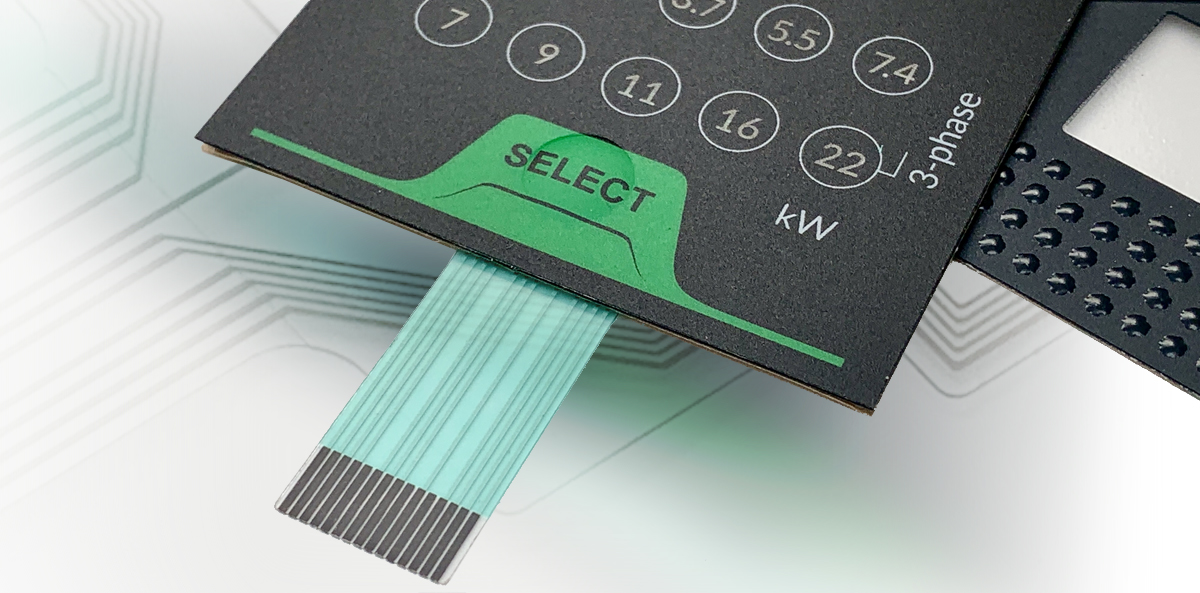 Membrane panels
8 jun 2021
Membrane panels, also known as foil or membrane keyboards, are the basic element of most machines or electronic devices. They are mainly used as operator panels responsible for the interaction between the user and the machine. These keyboards are willingly used by manufacturers of different types of consumer electronics because of their high aesthetic value, operational reliability, and ease of installation. Thanks to them the construction of whole control panels is "slimmed down" to a minimum and there are no moving parts such as keys or knobs.
Customised keyboards can be made in any shape, colour, matt, or glossy finish and with different refinements and accessories. These can be completely flat keyboards, however, nowadays, they are usually made with different types of embossing and relief of the surface in place of buttons.
Although the membrane panel production technology is commonly known and has been applied for many years, it is continuously developed and used in an increasing number of devices. Embossing and metal contactors are slowly being abandoned and replaced by printed capacitive fields which detect finger contact. This translates directly into a drop in the price of this solution, and, at the same time, a lower production cost of the whole device. Thanks to the application of membrane panels, many manufacturers offer a ready-made device from just a few items or offer various models of the same device changing only the panel design itself.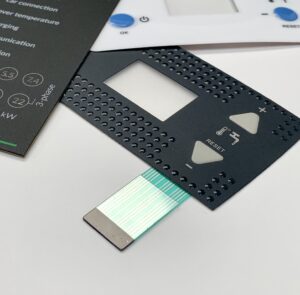 Membrane panels are made of several layers, which are usually as follows:
decorative foil – the top layer is usually made on a polyester film or PC film with special properties which guarantee resistance to repeated pressure. Printing can be carried out with the use of digital machines (used for low volumes and prototypes) or screen-printing machines (used for high volumes). The print is made from the bottom side of the sheet thanks to which the entire panel is protected against any external factors. A graphic pattern of the keyboard is located thereon, as well as embossing, varnishing, transparent fragments for SMD diodes or LCD screens. The inks used for printing such elements must be characterised by high elasticity due to the conditions in which they will operate, and colour durability which is essential for panels exposed to sunlight.
film with conductive paths and contact areas – print on the polyester film is made by screen printing with the use of a special ink that contains silver particles. It is then heated in the appropriate temperature for a specific period of time. In the next step (also with the use of screen printing) carbon layers are applied to the contact areas. These ones also need to be heated in the appropriate temperature. A special insulation layer is then printed to protect the paths against oxidation.
adhesive layer – it is a kind of a double-sided adhesive layer used for joining individual films together.
metal contactors – used to activate the contact surface on the film with a conductive path. They are hidden in the embossing area of the decorative film between the layers.
rear adhesive layer – is used to permanently connect the whole membrane panel with the substrate, that is the housing of the device.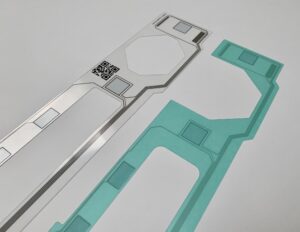 Without a doubt, it can be said that membrane panels have revolutionised the production of all electronically controlled devices and will keep doing so for many years to come.
Here you can find more information about panels.
Interested? Contact us!